State-of-the-art equipment
A fully automated sheet metal processing line allows us the fabrication of a wide range of products from different materials and configurations.
It can guarantee quality and 100% repeatability from the first batch. Moreover, the levels of quality and complexity of products in most cases are not achievable on the equipment from other manufacturers. The automated line is able to operate in small batches and/or in assembly kits, or in non-stop mass production. The entire process is controlled by software, and the production status can be monitored in real-time. The technology completely eliminates the possibility of manufacturing defects and ensures precise quality. All settings are done by engineers offline in the office, with the ability to simulate and improve the manufacturing process before the actual production.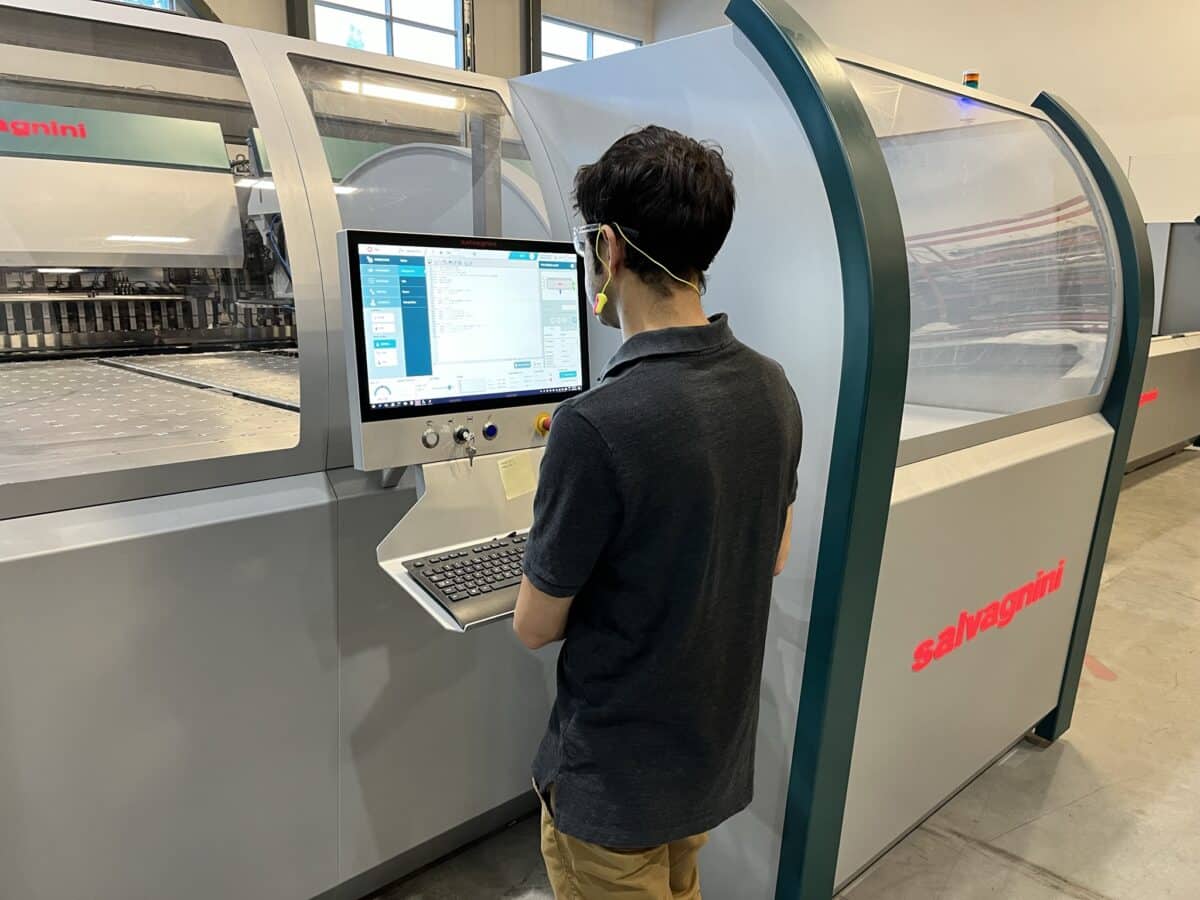 The production line starts from the automated storage tower for metal sheets. It is designed for safe and fast line operation. With 8 automatic trays, it can load sheets and unloads leftover materials for the production line in less than a minute. Some of the processed sheets can be withdrawn from the unloading conveyor, without interrupting the production process.
It allows to run non-stop production and minimizes downtime.
Different materials and sheet sizes can be used for production in kits.
Heavy materials can be easily transferred to the system from a pallet.
The laser system is used for perforating, engraving, or cutting sheet metal blanks in two dimensions. It can use oxygen, nitrogen, or compressed air options, depending on the material type and thickness.
A built-in artificial vision system able to cut tiny details of any pattern without limits.
Automatic 8-position nozzle carrier allows to cut of different materials without intervention.
Dry cooling system guarantees reliability and smooth edges of the product.
Robotic Manipulator & Automated Conveyor
This system is designed to pick up parts processed by the laser system and transfer them to the next operation station. On the way to the lean panel bender, the system is centering, measuring, and flipping, if necessary, the metal blank sheet for further processing.
The system automatically cleans the workpiece from the dust to avoid scratches.
It aligns workpieces with the set parameters and identifies defective items.
The entire process does not require actions from the line operator.
This machine quickly and fully automatically moves, handles, grips, and rotates the sheet metal throughout the whole machining cycle to get the final product out from the side conveyor.
Universal bending tools automatically adapt in-cycle to the panel geometry and settings.
No machine downtimes or manual re-tooling is required for a single batch or kit production.
Built-in sensors help to recognize different metal materials and adapt bending parameters.
AccurPress Press Brake Machine

Alu Bend Edge Bending Milling Machine

AXYX 2 Axis Router

AXYX 2 Axis Router 6018

AXYZ 2 Axis Panel Builder

Elumatec Profile Double Head Saw

Elumatec Profile Machining Center

Elumatec Profile Single Head Saw

RAS FLEXIbend Bending Machine

Metal Bending Roller Machine

RAS Panel Bender

AccurPress Shearing Machine